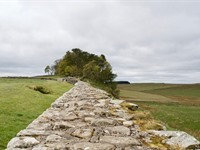 Visiting Hadrian's Wall
The village of Haydon Bridge sits 5 miles south of Hadrian's Wall, and within 15 minutes of Vindolanda, Housesteads, Chesters Roman Fort, Steel Rigg and The Sill; all of the key visitor attractions. The village provides an ideal base to explore Hadrian's Wall country, with easy access to all of the sites and a good evening base for meals and a nice relaxed sleep.
Shaftoe's provides the ideal base from which to see any or all of these sites and to walk the wall. We are always happy to advise on good walking routes, plans for the day and assist with your travel arrangements, be you travelling on foot, by bicycle or car.